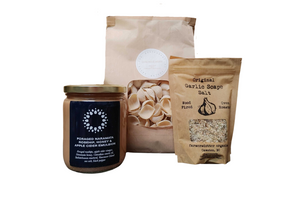 Okanagan Pantry Provisions
Regular price
$24.99
Sale price
$31.99
We've put out a few boxes with some locally crafted pantry items this year. They were all big hits and the purveyors were kind to give us a few extra. 
This is as bundle of three pantry items: 
1) Farmers Dotter Organic Garlic Scape Salt: 

Beautiful seasoning salt made from organic garlic scapes grown in the Similkameen Valley
140g
Perfect for grilling meats and veggies and as a finishing salt.
2) Poplar Grove Winery's Conchiglie Rigate Pasta Shells
100% Duram Semolina flour

Made by hand at the restaurant at Poplar Grove Winery in Penticton
454g
Amazingly fresh and toothsome pasta - shelf stable
3) Foraged Rosehip and Local Honey Sauce - Naramata Inn
Made from hyper-local ingredients: Foraged rosehips, housemade cider vinegar, Naramata honey, Vancouver Island sea salt, Canadian canola oil, Saskatchewan mustard + black pepper
500g
Shelf stable - shake well before using
Perfect for lightly tossing with coleslaw, fresh garden veggies, sauce for grilled fishes...
---
Share this Product
---